22.09.2016, Kyiv
Availability of qualified personnel ready to respond to possible critical situations arising during the work with clients in humanitarian projects and communities is one of the major challenges for all public organizations that provide social assistance in conditions of the humanitarian crisis in Ukraine. Caritas Ukraine felt these risks just on time and included educational programs of improving the skills and knowledge of its employees to the highest priority areas of its activities. As the availability of qualified personnel is the key to organizational stability and sustainable development of the organization.
Various educational events held under the patronage of Caritas and dedicated to the implementation of specific projects as well as to general aspects of working and new approaches. One of these new approaches was training of psychologists and social workers for acquiring skills of work with individual recipients and communities in conditions of social conflict. In mid-September in Kiev, the first such workshop was held for 24 participants (social workers and psychologists) from Lviv, Odessa, Zaporizhzhya, Kramatorsk, Mariupol, Drohobych, Ternopil and other cities. All the participants indicated that they continuously meet various conflict situations in their daily work and have a pressing need to learn to manage them in a constructive manner. That is why participation in such an event is extremely important for all.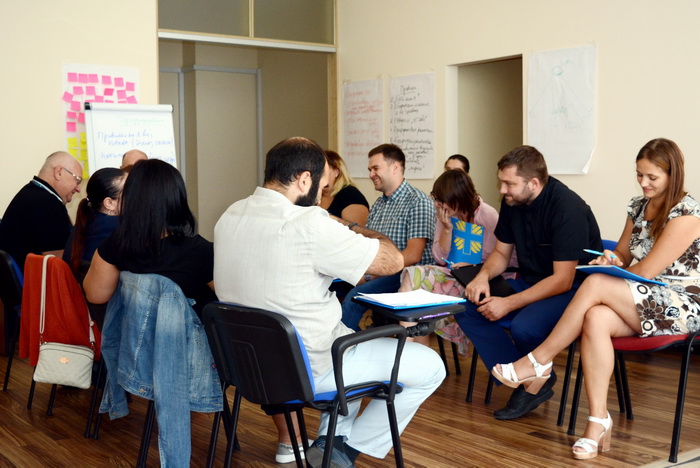 Training was focused on methods of analysis and practical work with conflicts in the community, conflict mitigation and peacekeeping practices with individuals and communities. The aim of the training was to master the conflictology in practice, acquire skills in conflict analysis, methods of practical work with conflicting parties and peacekeeping strategies.
Qualified psychologists and conflictologist were invited for the training: Andriy Gusiev (Ph.D. in Psychology, Associate Professor of General and Applied Psychology at Teaching and Research Institute of Management and Psychology of the University of Education Management NAPS Ukraine) and Iryna Brunova-Kalisetska (Executive Director of the NGO Information and Research Center 'Integration and Development' in Kyiv). Both coaches have a long experience in mediation and expert coaching. Besides, they are developers of educational programs on peacemaking and multicultural education.
Training consisted of a theoretical part of the nature and methods of conflict resolution as well as practical exercises and group discussions. Irina Brunova-Kalisetska, one of the coaches noted: "During the training, participants expanded their understanding of the conflict as a concept and manage to apprehend an important method of analysis named "conflict mapping". Besides, they considered the question of identity and its role in social conflicts, tried themselves in various communication techniques with people and groups in the context of conflict. During the training, a variety of difficult issues was raised: relations between locals, ATO participants and IDPs; between Christian and Islamic religious communities; issues of decommunization, interaction of citizens and government in solving various problems; training and real conflict situations."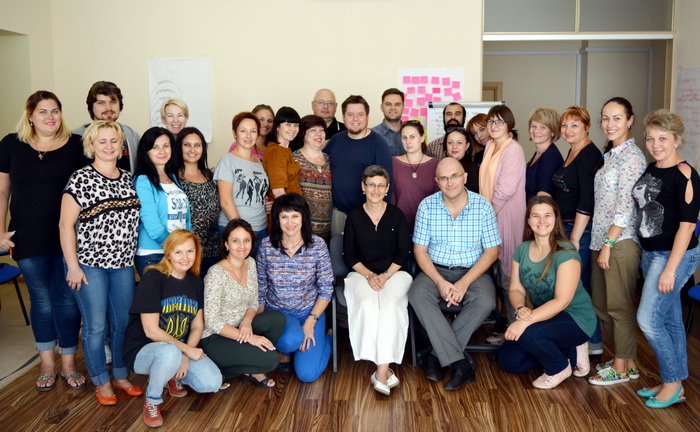 According to the organizer of the training and Caritas expert on psychosocial support Ksenia Bukhanets', such trainings are essential for all employees of social projects. As they are often faced with the problem of conflicts and their resolution, and without knowledge in this area there is a high risk of provoking even greater conflict and prejudice towards wards of the organization who are vulnerable enough.
Catholic Relief Services Organization (USA) provided financial support for the training. Its representatives Sasha Angelevski and Sean Griffin welcomed the participants as well as the President of Caritas Andriy Waskowycz.
Caritas plans to continue the intensive training of its staff, while it will help them to provide assistance to all in need more actively and professionally.