02.10.2013, Ivano-Frankivsk region
Caritas Ivano-Frankivsk UGCC has finished a milestone initiative "First school backpack". For ten years employees and volunteers of local Caritas had possibility to assist needful children in a decent way. It was done by means of charitable donations of parishes from Ivano-Frankivsk Archdiocese of the UGCC, city citizens and business representatives. This year 85 first-form school-children and 227 pupils from 2-11 forms received help in form of stationary goods.
"All recipients of assistance are representatives of socially vulnerable population groups:
1 child-orphan;
2 children left without parental care;
9 disabled kids;
243 children from large and poverty-stricken families of Ivano-Frankivsk and oblast, and also educates of St. Nikolas Campus (Kryhivtsi village);
38 kids from single-parent families;
19 children with HIV/AIDS infection.
This year 312 children received new school backpacks, stationary goods and other things required for studying at school," informs Lesyia Dorosh, Coordinator on Work with Children and Youth in Caritas Ivano-Frankivsk.
Delivery of school bags was performed in two stages – firstly, on August 21 the celebration of "First school backpack" for first-form school children was organized in Caritas premises; and then distribution of charitable assistance was carried on the request of parents for pupils of 2-11 forms. In total budget of charit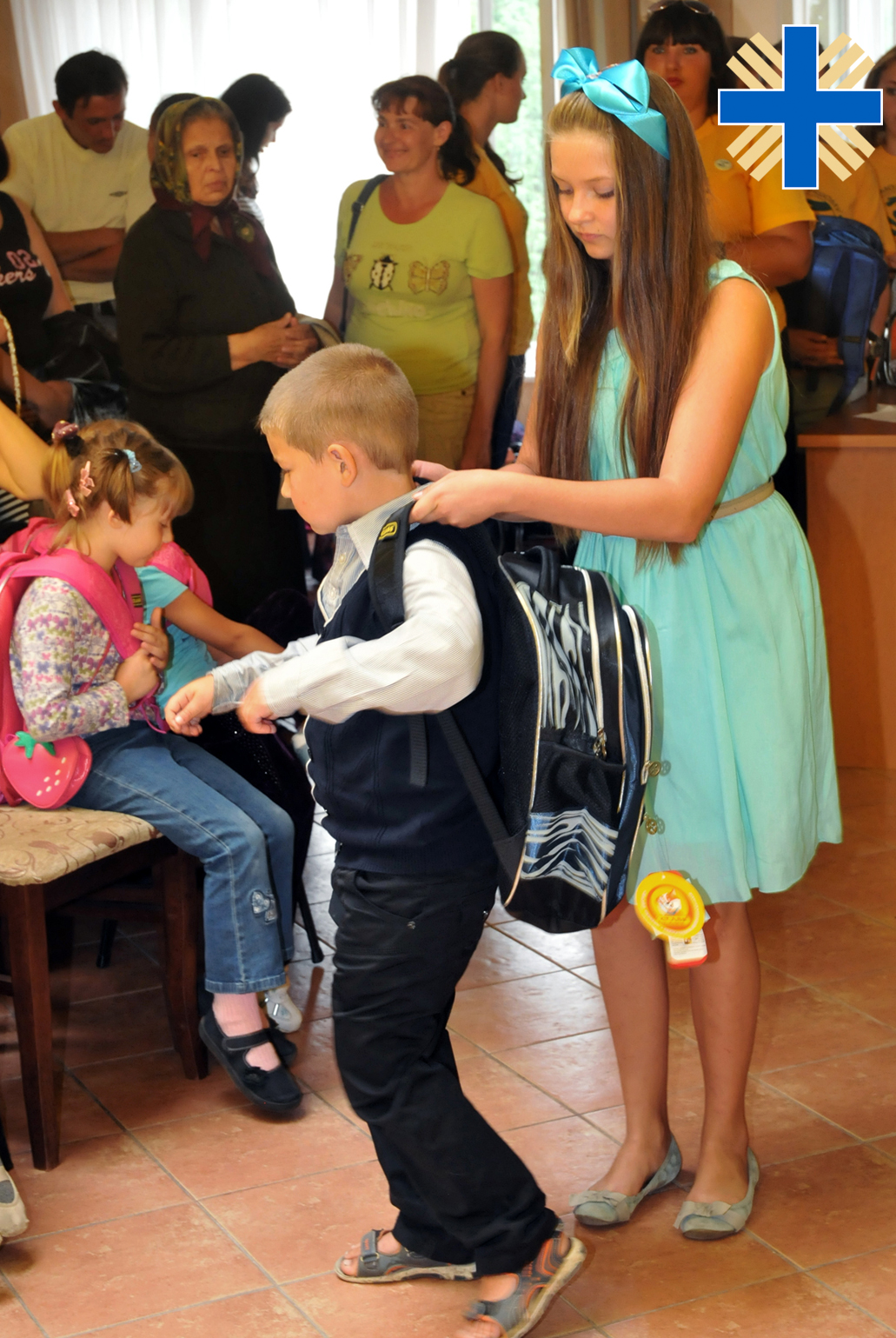 able initiative amounted to 46,034.25 UAH.
Adriyko, first-form schoolboy, is one those kids who got a school backpack. His mother Maria appealingly and heartily gives thanks: "I am grateful to Caritas for the support in getting ready for school. Last year her first school bag received my elder daughter Anya and this year we weren't left behind. You know, if you bring up children alone nowadays, it is quite difficult to provide them with everything they need. Owing to your help our son is looking forward to the day when he goes to school with a new bag!"
All in all, 1222 orphans, half-orphans, disabled youngsters and children whose parents are in complicated living circumstances received help in form of school bags and supplies, stationary goods during 2004-2013.
Caritas Ivano-Frankivsk of the UGCC expresses sincere gratitude to:
–    parishioners of Ivano-Frankivsk Eparchy of the UGCC: Mother of God of incessant help, Jude Thaddaeus (Ivano-Frankivsk); Peter, Paul and St. Mykyta (Mykytyntsi village), All Saints of the Ukrainian nation, Intercession of the Blessed Virgin Mary, the Great Martyr Saint Paraskevas (Opryshivtsi village), Joseph the Betrothed, Christ the Lover of Man and  Ivano-Frankivsk Saints Grygorii, Symeon and Ivan (Ivano-Frankivsk), Christ the King, Birth of the Blessed Virgin Mary, Ascension, Pentecost, Cyril and Methodius (Krychivtsi village), Saint Yurii the Conqueror, Saint Yurii the Winner (Ugornyky village), St. Volodymyr and Olga, Annunciation (Ivano-Frankivsk), Assumption Day (Kryhivtsi village), St. Dmytro, St. Nicolas (Tyapche village);
–    representatives of private business: LLC "Saga", LLC "Microl", DLC "Ivano-Frankivsk OPAS", LLC "Karpaty Motor", LLC IF State forestry enterprise, SE "MARILANCE UKRAINE", LLC "VERUM.UA.WEST", Entrepreneur Gryniv Oksana Yosypivna, PP Boychuk L.G., Elizabeth Zaydel, Narytnyk M.I., Opar N.V., Kateryna Lyuderi, Mishko Oleksandri, Poman Chyzhevskiy, Mr. Sokolovskiy and Mr. Yaroslav.
"On behalf of everyone who received assistance and coordinated the initiative, we are grateful to all loyal parishioners of Ukrainian Greek-Catholic Church that contributed to Caritas charity boxes, and representatives of local business who responded at letters-requests for rendering financial aid.  Special gratitude to entrepreneurs Kostyantyn Ployakov and Ganna Doroshenko that provided substantial discounts on buying stationary goods – nearly 60 UAH for each school backpack.  Thanks to their offers Caritas could help all needful individuals that addressed with claims," says Fr. Volodymyr Chorniy, Director of Caritas in Ivano-Frankivsk.