14.04.2014, Ukraine
It is important to announce the beginning of the IV annual art-project that unites almost 100 young people with special needs and famous Lviv artists. Their cooperation is aimed at organization of special events and creation of thematic holiday presents that are distributed in public places and facilities and draw attention to problems of socialization of disabled individuals in the country.
Art-project of Caritas Ukraine was launched in winter 2011 on basis of artistic union "Dzyga" and seized Lviv coffee houses "Svit kavy" and "Stari Mury", was presented on Christmas fair in center of Lviv, in galleries "Svit art" in Chernivtsi and "Kolo Zaspy" near Kyiv. In winter 2012 the initiative was implemented in Lviv and Ivano-Frankivsk in branches of "Lviv Handmade Chocolate". During these two years art-project participants presented icon painted on the glass, contemporary icon on wooden panel, ceramics, textiles, canvas paintings, interesting thematic gifts and toys.
In winter 2013 disabled youth together with artists prepared New Year and Christmas works and decorated a holiday Christmas tree in lobby of Lviv City Council. And this year we are glad to inform you about presentation of an art-project during Easter time in Museum of Folk Architecture and Rural Life in Lviv "Schevchenkivskiy Gai" (Chernecha Gora Str. 1).
All stages of an art-project development are accompanied by a great interest from media and partners, because idea and objective of the imitative enable to get closer and transform world of people with special needs that are often isolated in their flats and deprived of basic rights and freedoms as possibility for personal fulfillment and acknowledgment of their creative skills.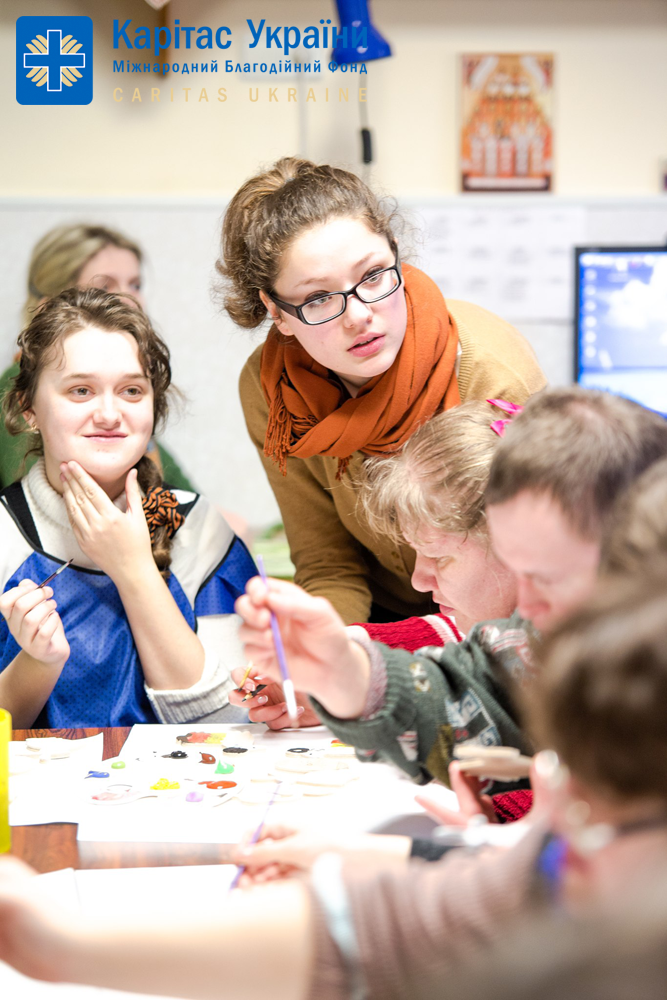 Every year the number of people with special needs increases in the country. At the moment nearly 10% of Ukrainian population are disabled individuals, 6% of them are people with mental deficiency. Disabled people in Ukraine feel negative impact of many social problems linked to education, employment, medical service, material, technical and information support of adequate integration in society life, stigmatization.
Lyudmyla Sukhareva, coordinator of Caritas Ukraine on work with people who have special needs, says:" Young people with special needs feel happy because they are involved in making of art works. First of all, it is creation of a special mood, improvement of psychological state, communication skills and general development of personality. Moreover, this art-project helps to better integrate and socialize disabled individuals in local communities, influence changing of conscience on acceptance of person with special needs in society."
Easter in Lviv is one of the most honorable holidays, traditions of its celebration are still preserved here; bright and joyful mood is in the air. The city is seized with range of festivals, 'gaivkas' (spring songs), concerts, work-shops and amusements. Shevchenkivskiy Gai turns into a meeting place of families, old friends and city guests: here over tens of thousands of people gather during a few days. And this year traditional Easter in Lviv will acquire traits of social responsibility: with support of Lviv City Council young disabled people will present their thematic artistic works in the Museum of Folk Architecture and Rural Life "Schevchenkivskiy Gai". There are professional artists who joined the process of special souvenirs creation: Olga Kravchenko, Ostap Lozynskyj, Olya Suprun, Yevgeniya Ryabchun and Maryana Kvyatkovska.
The slogan of an art-project: "Let's initiate changes together!", because everyone can take part in the project and get involved in Caritas service to needful people, and particularly, youth with special needs. On Easter in Schevchenkivskiy Gai and other locations citizens and guests of the city will be able to buy for a token money artistic pieces created in different techniques and from various materials: pysankas (Easter painted eggs), rag dolls, articles made of quilling and beads, thematically painted cups and other souvenirs.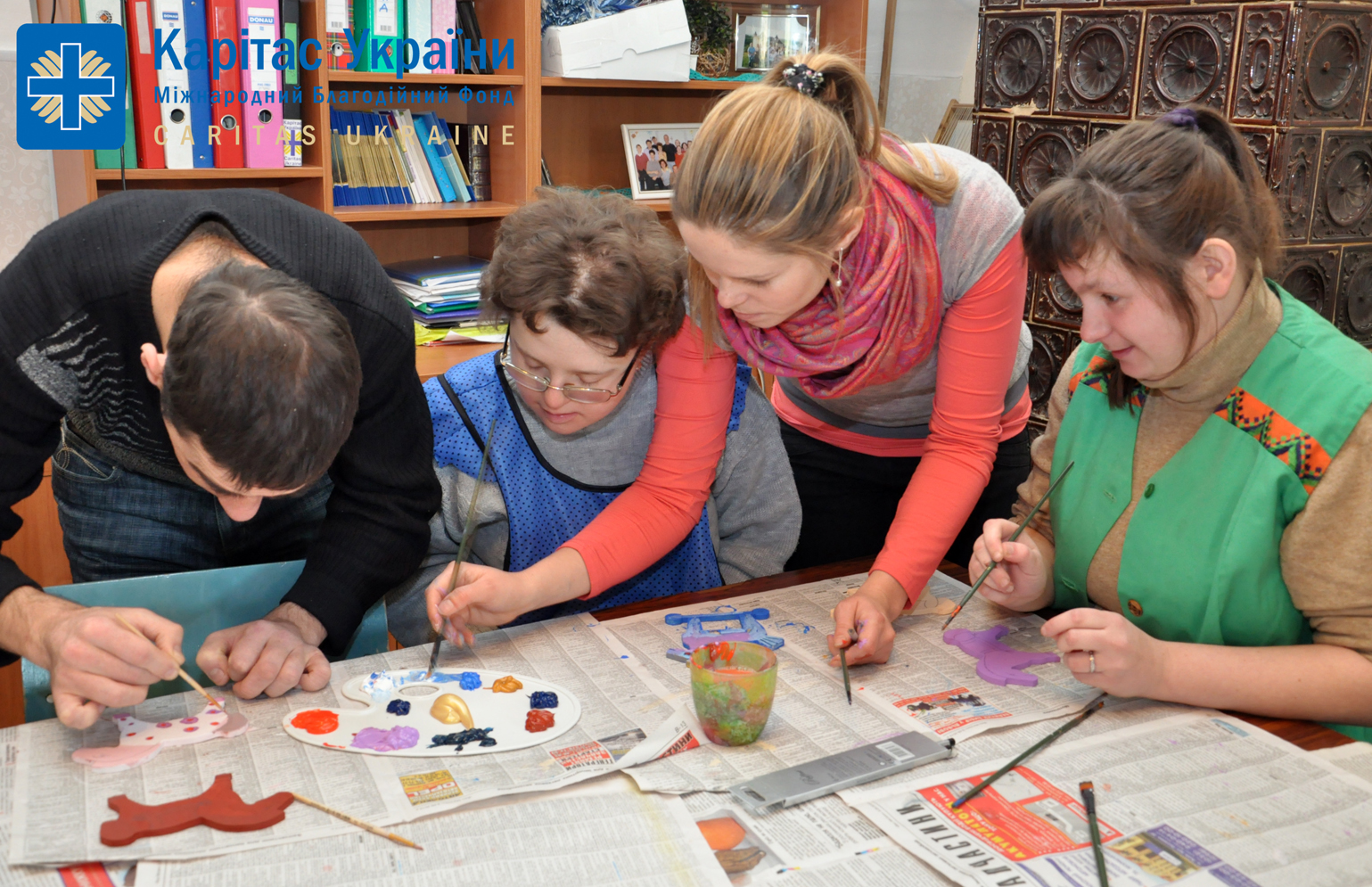 Maryan Pyrozhok, artist, owner of "Pyrozhky Artisanal Family", soloist of Hytz Orkestr and art-project activist, retells: "When last year I was invited to participate in workshops with youth who have special needs I was somehow confused. I didn't want to be related to teaching – I consider it as something compulsive and contradictory with freedom of choice. But, particularly to this invitation, I felt heart to heart, as I was asked to become a godfather for a child – it is wrong to renounce from such things.
Afterwards, when I visited lessons held by other craftsmen and then I started to run my own, I entirely changed my mind. I was impressed more than ever by sheer outspokenness of young disabled individuals. I could hardly take it in – what is the connection between such extraordinary kind people and the word "disabled"! Next to them I feel even more narrow-minded in some aspects. They become dedicated to what they do easily and truly, they allow you to experience their pure space without stereotypes and lies. Their love to the good, colors and power of creativity encourages you without any doubts to feel happy and joyful to the full extent.
I count my blessings that brought me with such unusual people. Till my dying day I will deeply respect and admire people with disabilities and those who work with them!"
See the crafts of our youth you can here.