08.06.12
Every year, on the first day of summer, International Day for Protection of Children is observed. This is one of the oldest international observances. The decision to establish this day was made in 1925 at an international conference held in Geneva dedicated to children's welfare. In some countries on 1 June children's rights activists come out on this day to speak out against abortions. The same is true in Ukraine; abortion opponents chose this day to hold a demonstration to declare that unborn children have a right to life.
"Most importantly we want to remind government bodies, community organizations and business representatives that they need to constantly pay attention to children and to protect their rights as this is a necessary condition for creating a democratic society," the press-centre stated while citing an announcement made by the President of Ukraine.
Caritas Volyn', specifically clients of the Psycho-social Support for Children of Labour Migrants joined in the city wide celebrations which included an art contest of street paintings, a European integration quiz game, presentations, pet exhibits and a concert put on by children.
The theme of the street art contest was Happy Childhood. After the judges discussed the submitted works, they identified 10 year old Vika Khavin's piece as one of the best. Vika is a client of Caritas Volyn'. She wonderfully captured childhood friendships and the resulting expressions of joy. She was rewarded with sweets and a book.
Information on European integration was given out during the celebrat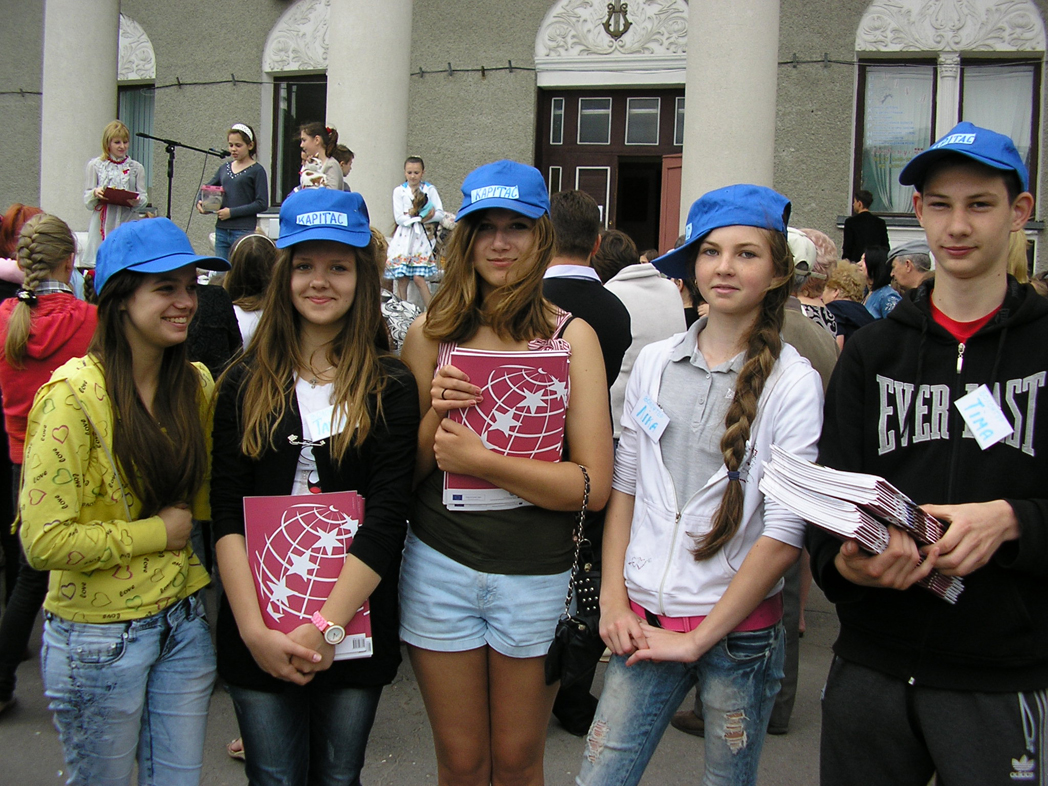 ion; this was followed by a quiz game which the clients of Caritas' Psycho-social Support for Children of Labour Migrants volunteered to help with.
International Day for Protection of Children was led by professional story tellers which helped create a joyous atmosphere. The children were able to take photographs with clowns. Every participant of the celebration received a token gift of sweets, a book, office supplies and coloured balloons. At the end of the celebration Caritas Volyn' organized a special prayer service to bless all children at the St. Peter and Paul Church.
"Children are our greatest treasure, our joy and future. For this reason every family, school and community must work to develop the next generation's full potential by providing them with the necessary level of guidance and by protecting their rights. We are convinced that if we unite our efforts we will be able to protect our children, help them avoid bitter disappointments and from losing faith. The fate of each of our children, of the entire new Ukrainian generation, depends on us, the adults," say employees of the local Caritas.