14.01.12
They say that there is a child in every adult. We are reminded of this during the holidays, especially during the winter holidays. They start with St. Nicholas the Miracle Worker's Day, which according to Christian tradition is the personification of philanthropy. Regardless of how old we are, we anxiously await the holiday celebrations, surprises, traditions, and gifts. Mostly, we crave wonders, the fulfilment of dreams, and children crave presents.
Children living in orphanages have no one to share their dreams with. The majority of them are orphans, wards of the state or have simply been abandoned by their parents. Their possessions consist of only the most necessary items. It is these children who wait for St. Nicholas to make their dreams come true the most.
This year the fundraiser Help St. Nicholas Visit Orphans, organized by Children of Light and the Caritas of the Kolomiya-Chernivtsi Eparchy (earlier announced) served 15 orphanges, wards of the state and children from disadvantaged families in Kolomiya and the outlying areas. Nearly 2300 children received gifts of clothing, school supplies, books, games and sweets:
Selyatyn School-Orphanage—246 children (76,597 UAH)
Vyzhnytsya School-Orphanage—206 children (48,631 UAH)
Verkhovyna School-Orphanage—304 children (31,775 UAH)
Zaluch Children's Orphanage—28 children (5,327 UAH)
Tlumach School-Orphanage—123 children (55,158 UAH)
Mykulychyn School-Orphanage—88 children (26,188 UAH)
Orshiv School-Orphanage—44 children (14,863 UAH)
Pechenizhyn School-Orphanage—128 children (44,310 UAH)
Snyatyn School-Orphanage—95 children (46,664 UAH)
Hvizdets School-Orphanage—133 children (44,613 UAH)
Yablunytsya School-Orphanage—129 children (58,172 UAH)
Nadvirna School-Orphange—117 children (29,738 UAH)
Nadvirna Children's Orphanage—43 children (6,483 UAH)
Krasnokut Pre-school orphanage (Kharkiv Region)—52 children (11,366 UAH)
Kolomyya Children's orphanage—65 children (8,870 UAH)
Krokus, the Kolomyya charitable foundation to support children and young people with mental challenges—51 children (7,326 UAH)
God's Mercy Association for children with special needs—26 children (8,364 UAH)
Children of Mercy, a charitable foundation)—200 children (4,000 UAH)
Children from disadvantaged families, wards of the state, and disabled children in Kolomyya and the surrounding region—206 children (61,531 UAH).
We would like to thank everyone who responded to our pleas and donated to Help St. Nicholas Visit Orphans! Your donations allowed us to purchase gifts totalling 584,923 (five hundred eighty-four thousand, nine hundred twenty-three) UAH* for disadvantaged children.
Each of you had the opportunity to play St. Nicholas, to be a philanthropist who made the dreams of disadvantaged children come true.
First, we would like to thank His Excellency Bishop Mykola, who bl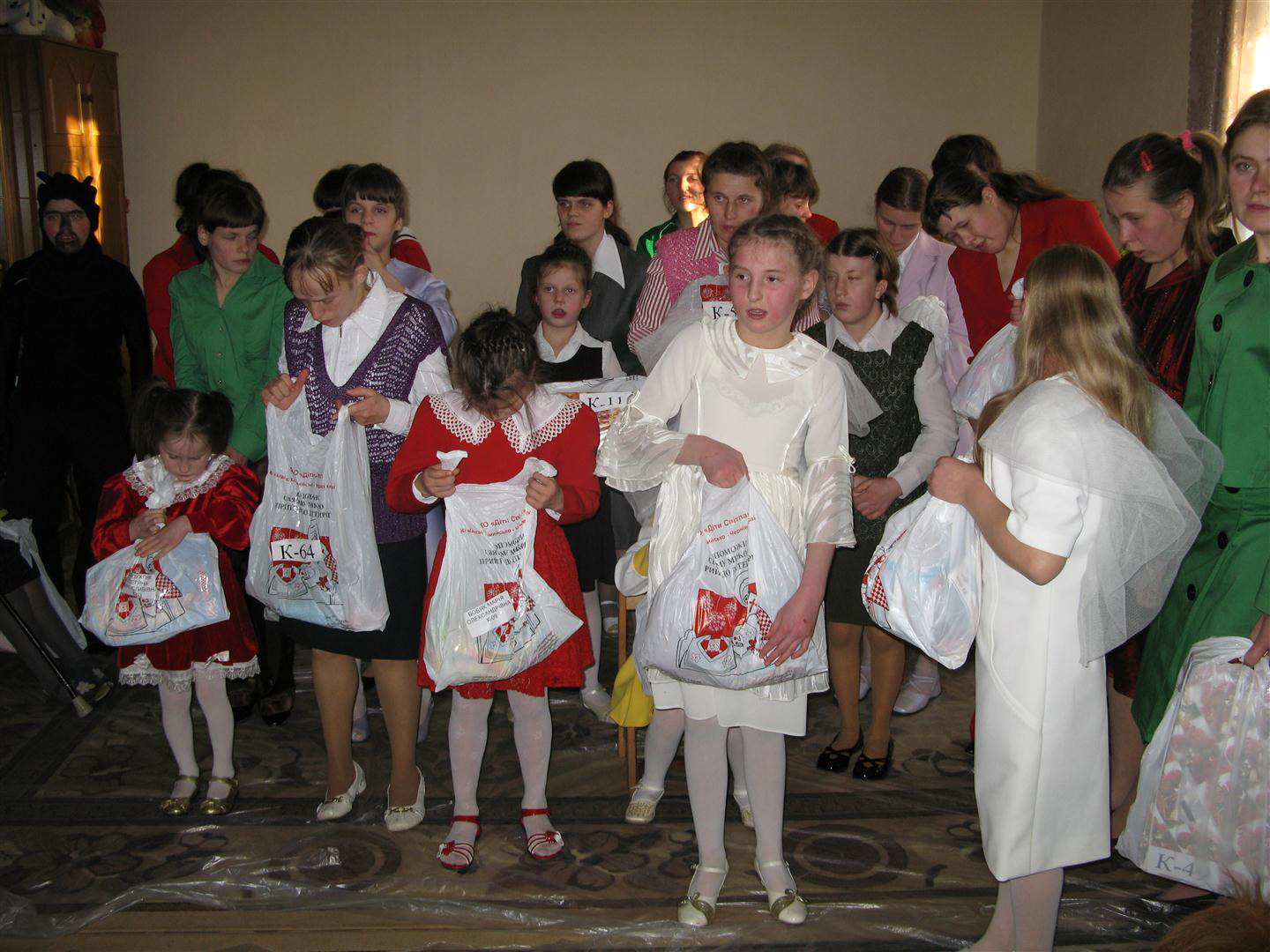 essed this event and supported it throughout. We are grateful to our media partners NTK TV, the radio station Syayvo, the Kolomyya web-portal, and the Kolomyys'ki News who advertised our event free of charge. We are in awe of and indebted to the students from all Kolomyya's schools, and to the teachers and students from the Pedagogical and Polytechnic Colleges and the #14 Higher Professional School. We also would like to thank other businesses who helped in various ways including by allowing us to set up donation boxes on their premises, and the dozens of people from the Kolomyya district that helped.
"We are most grateful to You, who did not ignore human strife and took a child's letter to St. Nicholas and made one child's dream a reality; we bow to you on behalf of the children who must live in orphanages," noted deacon Serhiy Tryf'yak, director of Caritas Kolomyya-Chernivtsi Eparchy.