1) Medical treatment and rehabilitation of long duration, notably for persons injured during EuroMaidan events.
Within the project 62 persons who had serious bodily injuries or lost a part of their body, and are low-income, could benefit from the assistance in treatment and rehabilitation. Additionally, project beneficiaries could receive psychological, social and material types of assistance.
Such work was supported by Caritas Europa members and Catholic Relief Services (USA) with total budget amounting to 129.987 EUR.
2) Rehabilitation psychological assistance program for families affected by continuing conflicts in Ukraine.
Project was tailored for almost 600 persons and aimed at organization of psychological assistance and rehabilitation of families of the deceased during EuroMaidan clashes and military conflict in eastern Ukraine. In the project framework three "Family circles" were held in Dnipropetrovsk, Lviv and Kyiv. Nearly 600 people joined face-to-face and group psychotherapy. Furthermore, project included help to 15 incurably ill wounded people in arrangement of their living space, and also training of their relatives on provision of correct care and assistance to the ill. Additionally, during winter holidays 30 kids benefited from trips/camps with accompaniment of qualified psychologists.
Project was supported by CNEWA (Ottawa, Canada) and Canadian-Ukrainian Foundation (Edmonton, Canada) with budget that amounted to 125.011 CAD.
3) Psychotherapeutic assistance to victims (family members and witnesses) of mass protests in Ukraine.
This project foresaw rendering of psychological and psychotherapeutic assistance in form of group and face-to-face work with victims, their family members and those who witnessed recent mass protests in Ukraine. Such activity is being implemented by qualified specialists on the basis of Caritas Ukraine regional organizations in Kyiv, Kolomyia, Drohobych, Kharkiv and Dnipropetrovsk. In general, this project seized more than 630 people.
Total budget of this project made 100.000 USD that were provided by Ukrainian Catholic Archeparchy of Philadelphia.
4) Medico-social and material assistance to victims and families of the deceased during mass protests in Ukraine.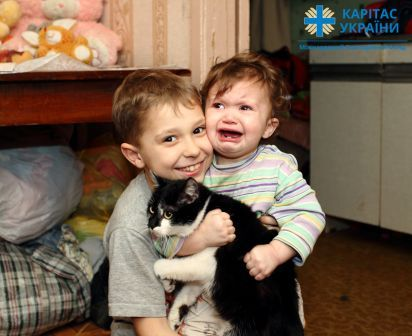 In the course of April-July 2014 workers of Caritas Ukraine selected and provided assistance to 60 the most needful low-income people, who had bodily injury (grievous, moderately severe and trivial), and had an acute need in decent help and support. Assistance that amounted to 691.148 UAH was rendered on the basis of Caritas Ukraine regional organization in Kyiv, Lviv, Ternopil, Kolomyia, Novovolynsk, Brody and Boryslav and consisted on the following components:
• social (social follow-up, payment for services on lost documents recovery, consultations and information support);
• material (purchasing of household appliances, construction materials for repair works, food packages, clothes and shoes);
• medical (purchasing of medicines as per doctor's prescription, payment for medical examinations and health resort treatment, and dental services).