16.06.2014, Kyiv
Clients of Caritas of Kolomyia-Chernivtsi Eparchy took part in all-Ukrainian football tournament "UNICEF Cup". It is an annual competition for dozens of children in complicated life conditions. The third tournament took place in Ukraine and it is the third time team from Kolomyia participated in it.
Children spent only one day in Kyiv, but there was enough time for crisis boys and girls to get involved in tournament, see the capital, communicate with peers and what is the most spectacular – with Ukrainian football stars. "This contest is very important for kids. It not only fosters discipline and determination, but draws them together, opens new horizons. Young sportsmen understand that with help of persistence and healthy lifestyle it is possible to achieve many things in their lives," retells Nataliya Grygorchuk, manager of children's projects in Caritas Kolomyia.
Nataliya together with her colleague Khrystyna Kucheruk were involved in preparing kids to compete for UNICEF Cup. They didn't only pull together football players, but they also trained them. Sometimes they addressed professional sportsmen for help.
Volunteers brought to the capital team of ten persons – seven boys and three girls, clients of social center of local Caritas. Apart from regional organization from Kolomyia, teams from Brody and Kyiv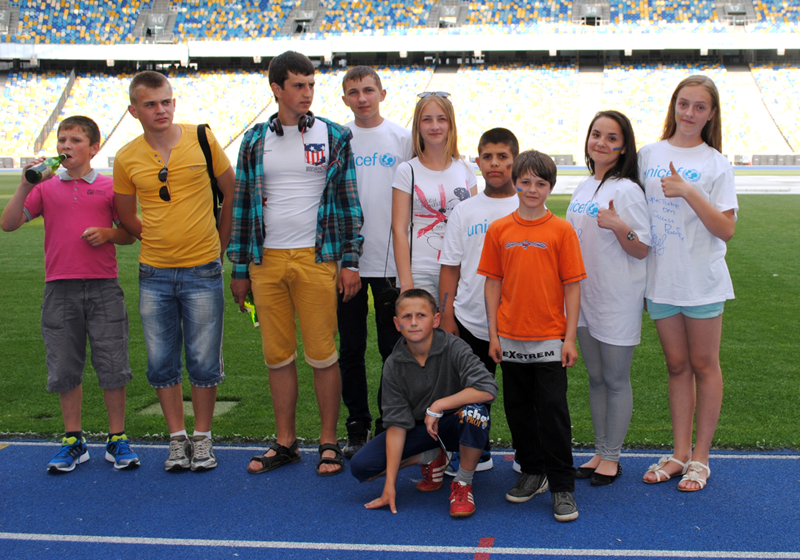 presented Caritas Ukraine.
14-year-old Khrystyna Mykhaylyshyn is a football fan. This girl had three dreams; one of them came true with help of UNICEF: she visited NSC Olimpiyskiy. "I visited the stadium, sports halls and even checkrooms where stars of Ukrainian football change their clothes. I saw their personal belongings. It is difficult to put my emotions into words. I enjoyed being there very much! I also have very good impressions from visiting Kyiv. And I am not disappointed about the fact we lost the game. At the same time I would like to participate in the contest one more time," girl shares her impressions.
This year 6 teams from all parts of Ukraine competed for UNICEF Cup. There were over 150 children, among them – those who were left without parental care, have limited possibilities, are foster kids from orphanages, internally displaced persons from Crimea or Eastern part of the country, and also boys and girls who faced HIV/AIDS problem. All-Ukrainian football tournament was held on Bannikov capital's stadium.
16-year-old client of Caritas Kolomyia Vadym Martynyuk enjoyed the most meeting with Oleksandr Rybka, football player of Ukrainian national team. "He is a well-known football player, goal-keeper. Everyone wants to be like him and me too. My friends and I aren't disappointed about our failure, because the most important is that we were there, established more amicable relationships, got to know new things and competed honestly," says young back from Kolomyia.
At the end of a tournament all participants were honored with prizes. Besides positive mood and emotions, young football players from Kolomyia took home many trophies. It is said in local Caritas that their clients will train obstinately in order to win UNICEF Cup next year.