26.05.2014, Ukraine
The first month of project implementation passed. It focuses on rehabilitation of people who have been heavily injured in street clashes in Ukraine from Nov. 2013 – Feb. 2014. Such activity will last by the end of this year and is aimed to seize nearly 30 people who were heavily injured or even lost a part of their body, are low-income, from villages or small cities in Western Ukraine and are in urgent need of an appropriate rehabilitation programme that covers not only medical aspects but also psychological, social and material aspects of assistance. Total budget of a project amounts to 3,3 mln. UAH.
According to official data of the Ukrainian Ministry of Health more than 2200 people have been injured, more than 120 were reported dead and 300 are reported as missed during the street clashes from November 2013 to February 2014. According the Head of the Medical Service of the protesters' camp on the Independence Square Oleh Musiy, who is currently Minister of Healthcare, more than 120 people were killed or died in follow of their injuries, more than 2.000 have been injured and 300 are reported as missed.
From the very first days of the protests Caritas Ukraine has been expressing its intention to support people in case of being injured during demonstrations, mass protests or possible street clashes. Caritas staff members participated actively in providing assistance to all groups of victims, especially with medical service. Today Caritas Ukraine is facing a huge number of people being injured during the street clashes and is trying to set up short-time and long-time assistance for victims and their families.
Dzvenyslava Chaykivska, project coordinator, retells: "Any long-time treatment and rehabilitation will not be affordable for most of the victims, mostly because of financial reasons, but also due to the lack of adequate specialized medical and psychological assistance in their cities or villages. Although most of the victims receive treatment and support of different kinds at the moment, long time consequences – both physiological as psychological – cannot be assessed at the moment.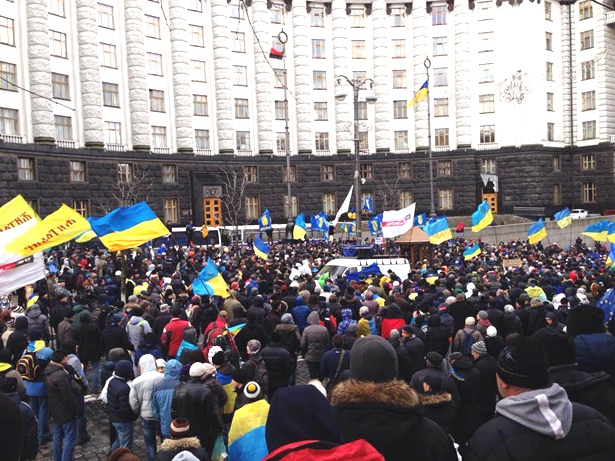 Even if protesters were not injured, long-time participation in mass protests, being witnesses of deaths, military attacks, long period of psychological pressure and adrenaline excitement may be a trigger for long time consequences like post traumatic syndromes or depression."
Caritas Ukraine employees choose clients for the projects among the most hardly injured individuals. The case-management is based on a client-oriented approach that is a standard in Caritas Ukraine's projects.
With the assistance of medical and social specialists people with the most vulnerability are selected (all characteristics and kind of vulnerability will be taken into account: level of injury, level of income of the client/family, existence of dependants, psychological condition, age, overall medical condition & possible other diseases like tuberculosis, HIV/Aids or disabilities).
The project will be implemented by the headquarters of Caritas Ukraine in Lviv and Kyiv. In order to meet the special needs of the affected people it is considered to collaborate with 8 regional offices of Caritas Ukraine in 6 Western regions.