20.10.2014, Ternopil
Recently, Caritas Ternopil has organized sporting and patriotic event "Cossack amusements " for children from large, low-income and crisis families. 15 kids revealed their smartness, courage, speed and intelligence. Teams were competing with each other not only to prove they deserve the first place, but they can compete as a part of one team.
The initiative is aimed to attract attention to the glorious past of our country related to Ukrainian Cossacks and promote healthy living among children. Taking care of own health and finding alternatives for leisure are some of the main objectives of work with crisis teenagers in local Caritas.
"When participating in such activities, first of all, children aim to win a prize for the first place. And afterwards they understand that positive emotions, excitement, friendship and time spent joyfully are more important gifts than something material.
Teenagers are always looking for extreme emotions and impressions, that's why it is important to show them various ways how to reach such feelings in a constructive manner. Trips, competitions, contests, creative evenings and other events that we organize help children to approve themselves, enrich own world and open new perspectives," retells Natalya Kotsyuba, local coordinator on work with children and youth.
Local Caritas is also concerned about problems of IDPs from ea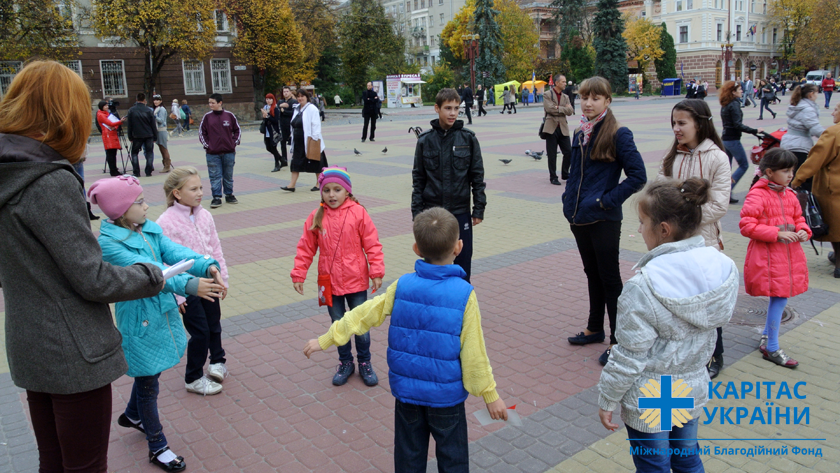 stern Ukraine and Crimea. When there are possibilities, assistance to the displaced is provided in form of food, clothes, medicines, social and psychological support.
Many civic organizations in the city join such activities. In particular, Caritas Ternopil, Ternopil City Council Education and Science Department and CO "Youth Development Center – Bridge ("Mist")" organized an initiative called "Friendly town" for children who came from Donetska and Luhanska oblasts and Crimea. Moreover, kids from Ternopil region whose parents are in the ATO zone were invited for this event. During the initiative IDP kids in a form of an adventure game got acquainted with history of the city, they were entertained and tried to make friends with other participants. In the meantime, parents were creating charms for their kids.
Almost 100 children joined the initiative. They visited Ternopil castle, Dominican church, Shevchenko Ternopil Oblast Ukrainian Academic Drama Theatre, Ternopil Political Prisoners History and Memorial Museum and "Literary Ternopillya" library-museum.
Employees of local Caritas are convinced that such an interesting and educational leisure for kids and their parents creates opportunities for communication, mutual support, exchange of information about civic associations of the city for the families to address and types of assistance they can receive.
"Work with children from disadvantaged families became a separate filed of local Caritas activity in 1999. It began with rendering of material support to children-orphans, kids from large and low-income families. Afterwards, this work included organization of their leisure/recreation in form of summer camps. Later, mob
ile work with street children and youth was set up.
Nowadays local Caritas takes care of total 91 needful family and over 200 children and youth in a quality and integrated manner. We provide beneficiaries with medical, informational and legal assistance and protection. Apart from securing basic needs, we pay great attention to spiritual, creative and psycho-social development. This year, obviously, with all possible means and efforts we work with IDPs, children of people who were victims or were killed during EuroMaidan events, and kids who witnessed conflict in eastern Ukraine," says Natalya Kotsyuba.