17.03.2014, Kyiv
Some days ago a meeting of women in complicated life conditions was held in Caritas Kyiv. Since 1992 local Caritas has been working with people who found themselves in difficult circumstances as a result of certain situations in their lives and are willing to cope with them. In this activity significant attention is paid at care and assistance to children from single-parent, large, low-income and crisis families, and also street children.
Assistance to crisis children and youth requires a complex approach and it is indivisible from the environment where they are growing up. Therefore, to implement this work effectively social inspection is being organized and help is rendered to families of such children with aim to improve not only household conditions, but what is the most important – relationships in families.
"With this meeting we wanted to use real examples of different people to emphasize the necessity to support each other: in families and in our Caritas community. We have been taken care of many families and observe good results. People are changing and want to improve their personal skills, create comfort and coziness in their homes. Finally, women, Caritas clients, were eager for such meeting to be held and to be organized in the near future,"
underlines Iryna Pukhnyak, coordin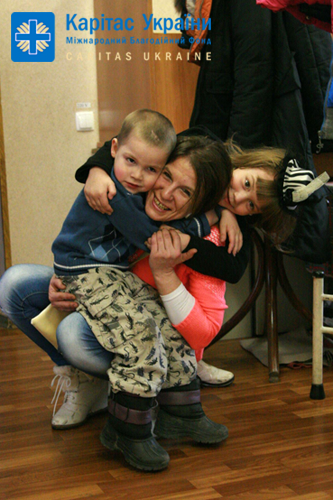 ator on work with children and crisis families in Caritas Kyiv.
Elina Lozynska – mother of four kids: in her speech during the meeting she tried to draw attention of women to their identity. "When I was asked 'Who am I?' I couldn't answer this question, because I actually didn't know who I was. My thoughts were concentrated on the one thing: I am 'a hamster in the spinning wheel' that is going round and round and see nothing. I sank into the mire of own routine and responsibilities, I don't even know what I am living for and dreaming about.
I began to consult with my friends. One of them said that I am a wife, another – that I am a teacher. Having reflected all facts properly, I decided that I am a woman, a beloved one and a mother. Afterwards, I found out that I lost faith in own possibilities and burden myself with everything, I forgot about myself, that I am an example for my children, how I relate to my life and what I am waiting for," Elina retells with tears in her eyes and smile on her face.
At meeting of women in complicated life conditions the majority of participants shared their life stories and experience. At the end of the event they confirmed the idea of self-help club creation.
This day became not only a day of meeting and communication, but a real day of joy and happiness. Workers of Caritas Kyiv and particularly community of concerned individuals http://cherrytea.org/, formed by Victoria Bondar from Ukrainian Philanthropic Marketplace, prepared a unique holiday with flowers, presents and a festive table. Women felt joyful and understood that there are people, who take care of them and are eager to assist in difficult life situations, and what is the most important – they acknowledged that you should never lose heart, but move forward with a help of God.