01.07.13, Kyiv region
Lately, christening of two children of preschool age was held in Kyiv Three Saints Theological Seminary of the UGCC. They are clients of Caritas Kyiv who live with their mother and two elder brothers in Knyazhychi, Brovary region in Kyiv neighborhood.
Mother of these beautiful kids had rather complicated childhood. Quarrelling all time and alcohol addiction of parents became reason for 11-year-old girl to run from home; her elder brother has been staying in places of detention from the tender age.
Father of young Christians Maksym and Khrysyna grew up on streets and now stays in place of detention. Tetiana with kids doesn't have own dwelling space. Flat where they are registered is departmental and was earned by father who refuses to privatize it. At the moment they reside with people of a good will, Leonard and Patricia Joy, who came from England and founded charitable foundation in Knyazhychi «Joy for children».
This couple took many Ukrainian children from orphanage; created a real family for them and assist in fulfilling their potential for a better future. Two years ago Tania with kids was expelled from the previous place of residence. This piece of news reached England and returned to Knyazhychi – that's how place for Tetiana and her four children was found in 'Joy for children'.
Two seminarians became godfathers for Tetyana's Maksymko and Khrystyna. Caritas Kyiv coordinators Galyna Lee and Olga Lyashenko – godmothers. 19-year-old Igor Shyrobokov, volunteer who visit Caritas in Kyiv since his childhood and its foundation, became the second godfather for the smallest Maksym.
"Tania is an incredibly good mother. She strives to give her children everything she lacked in her childhood. I honestly wish this family with newly born spirit growth in Christian virtues and decent upbringing of new members of Christian community. I am sure they will pass this exam with flying colors!" thinks Fr. Andriy Chornenko who baptized children that Sunday.
At the moment this young woman faces many challenges. First of all, it is little revenue. Being a single mother she gains 1000 UAH for all children per month. Great amount of money is wasted for tran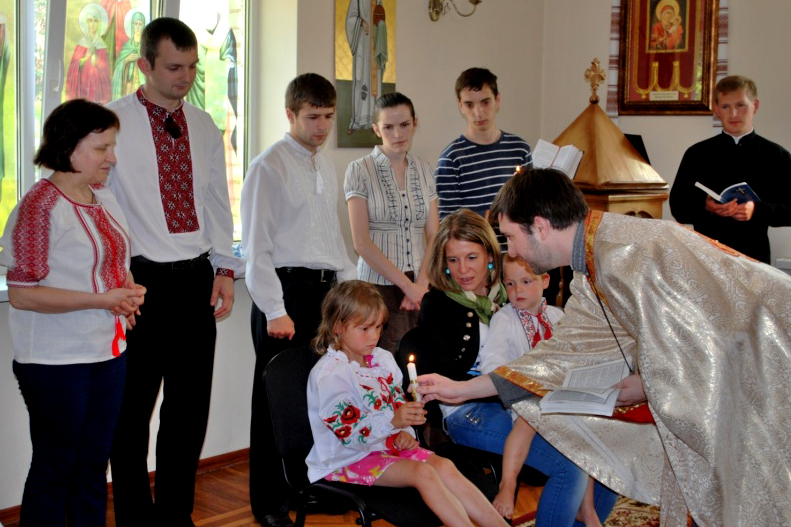 sport, because elder son Kyrylo has minor articulation disorders and goes to specialized school in Pushcha Voditsia. By the way, Kyrylo studies well. He often gets awards for his success at school; he is clever and balanced not for his age. There are no free places in village kindergarten and family doesn't have local residence, that's why younger children are not able to visit kindergarten. "My children are willing to visit Caritas, get involved in different activities and communicate with peers. This results in additional expenses for us every day.
Sincerely speaking, I'm afraid of unknown future and absence of own place for dwelling. But I keep my head up. I ask lawyers for help and protection. Recently, young lawyer Yana read the announcement on Caritas Kyiv web-site and showed aspiration to help us. She found out some information that doesn't seem hopeless in comparison with consultations of previous specialists. It offers hope for having own residential space!" retells Tetyana.