05.03.15, Kolomyia
Each week workers of Caritas of Kolomyia-Chernivtsi Eparchy organize interesting leisure for beneficiaries of a geriatric care home: not only workshops, but various excursions, cultural and sport events. This time they were preparing pizza together.
In fact, organization of culinary workshops is not a novelty for local Caritas. Foundation employee Nataliya Zhybak repeatedly shared her secrets with seniors from a geriatric care home and beneficiaries of a local orphanage: "We have experience in cooking dishes of Ukrainian cuisine – borshch, varenyky, other dishes from potatoes. This time we are preparing pizza. It is not a meal for daily consumption, that's why I think that beneficiaries of a geriatric care home will enjoy such workshop."
Kolomyia geriatric center is a new home for nearly 120 seniors, ill and lonely. Nowadays every sixth Ukrainian (almost 7 mln.) is an elderly person and each sixth is a lonely one (over 1.1 mln. people). Year by year a number of seniors – those who reached 65 years old – is increasing. These people require help on basis of institutional establishments and also assistance at their homes – it is Caritas Ukraine approach and such support is secured with "Home Care" program during last 15 years.
In order to add some colors to lives of elderly in a geriatric care home Caritas in Kolomyia decided to organize cultural and entertaining program for them on a regular basis. "Such activities give them feeling of integration in the society and that they are not left without attention from a neighbor, they can also communicate in an unusual atmosphere – in a circle of likeminded people. At the same time we can work with them, teach them something new and interesting, and finally get some lessons from them," says social worker Nataliya Zhybak.
Trainings and meetings are being held on a weekly basis. Groups of 10-12 people come from a geriatric center to Caritas social center. There are predominantly women, however, men are also eager to visit workshops. For example, Mr. Mykola: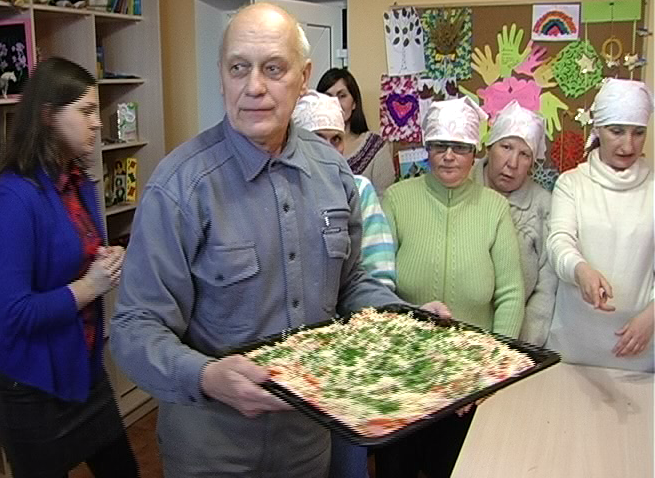 "We have great activities here. We become more responsive, opener and kinder, and get rid of bad mood. In such joint work we are growing all together!"
Mrs. Svitlana was particularly happy to take part in a culinary workshop. Everybody knows that she is enjoying work in the kitchen. "I have passion for cooking from my childhood. When I was a little girl, I liked preparing food. And now I cook for my friends in a care home," retells woman lively. She is one of few who knows how to prepare pizza. She willingly shares what ingredients can be added to this dish: "Sausage, cheese, mushrooms, pickles, hen's meat and there are many other things to put on a dough."
Cooperation with a local geriatric care home has lasted for over half a year and showed desired results. That's why team of Caritas Kolomyia is thinking about further interesting and useful social projects for such category of city and oblast population.
At the end of a culinary workshop Svitlana who was really impressed thanked organizers and confessed that she treasures such communication: "I don't have family and relatives. And I am glad that there are such people of good will from Caritas. When we come here – even time goes quicker," she concluded.