15.05.2014, Khmelnytskiy
Caritas Khmelnytskiy has been working with crisis children and youth since 2004 and went through many development stages of services complex delivery. At the moment social center in local Caritas provides needful young people with possibility to join various thematic interest groups and workshops, exercise on the special sport yard (football, volleyball, table-tennis), take part in profession-oriented events, use computer and Internet (notably, with its help clients can find place of employment and opportunity for earnings), together organize leisure and recreation etc.
In order to meet up-to-date challenges and fulfill vital skills Caritas employees in Khmelnytskiy together with Red Cross Society of Khmelnytska oblast held a lesson-training on rendering first aid for crisis young people, Caritas clients.
The event gathered nearly 20 clients who refer to a disadvantaged social group and need a comprehensive social assistance of medical, material, legal, psychological and social area of focus.
Representative of the Red Cross Society taught fundamentals of resuscitation procedures in different types of accidents: in everyday life, at the place of production, outdoors etc. Teenagers and youth were able to try on their own to do a closed-chest cardiac massage, CPR, to apply a tourniquet to stop bleeding, to do a dressing etc. Moreover, clients received theoretic knowledge on first aid in cases of fainting, burns and frostbite; they were trained to distinguish arterial bleeding, phleborrhagia, capillary hemorrhage and parenchymal bleeding.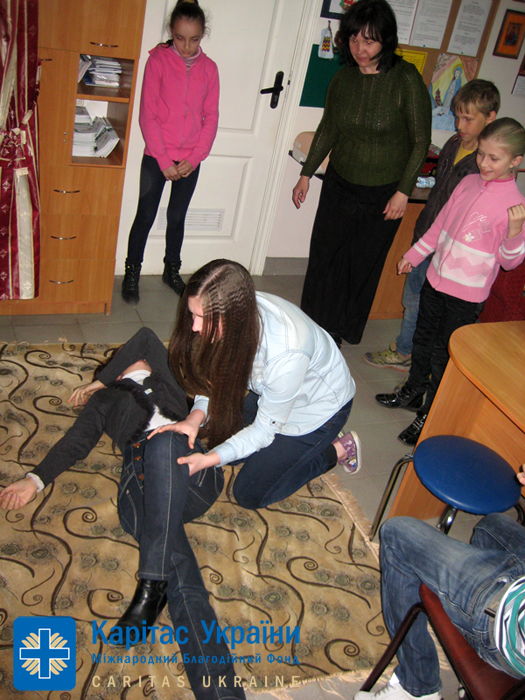 "Acquiring theoretic knowledge and practical skills in rendering of first aid is significantly important if we take in consideration social and medical problems of modern society and recent events in Ukraine that demonstrated unpredictability of tomorrow and vulnerability of each Ukrainian," retells Maryna Berezyuk, social worker of "Mobile work with youth" project in the local Caritas.
First aid is a complex of acute medical measures that are implemented towards a person who got unexpectedly ill or became harmed, at the scene of the accident and during his/her transportation in medical establishment. Timely delivery and accurate administering of medical aid can save life of a victim, at the same time it can provide further successful treatment of an illness or an injury, prevent development of serious complications (shock, wound abscess, sepsis), and decrease loss of working capacity.
Dmytro Kozlovskiy, "Mobile work with youth" project leader, notices: "Accident, unexpected illness can often occur in conditions when there aren't any required medical means, bandaging material, enough illumination, helpmates, there are no means for transport immobilization. In such cases good organization and activity of a person who renders first aid are essential for him/her to accomplish a complex of maximally accessible and meaningful measures, targeted at saving life of a casualty or a person who got unexpectedly ill."
Young clients were really interested in the topic of training and were eager to participate in practical exercise, received exhaustive replies on their questions and expressed willing to get involved in similar lessons in the near future.