14.07.2015, Lviv oblast
1,5 years ago Caritas Ukraine launched 2 social centers on work with youth that has special needs – in Kolomyia and Boryslav. Till that time a network of centers for disabled young people united 4 specialized hubs: in Lviv, Ivano-Frankivsk, Drohobych and Stryi. Therefore, 200 families of disabled persons, their parents and relatives can benefit from centers' work on a daily basis.
For a such a small town as Boryslav an opening of a social center is an outstanding event that gives hope and possibilities for the most needful to change own lives.
Sergiy (note: name of beneficiary was changed due to ethical reasons) has been visiting Caritas center for a year. He was born healthy, but due to complications of the illness he had in childhood he became disabled with cerebral palsy diagnosis, has retardation of psychological development. When Sergiy got this diagnosis, his father left the family. His mother did her best to give children all necessary things for living. She had to go abroad to earn a living and tragically died there.
Since that time Sergiy lives with grandmother and brother in a small town in Lviv region. He has no possibility to exercise own basic rights – for education, employment, participation in cultural and social life. That's why he is really glad that Caritas opened a social center for kids and youth with special needs in Boryslav: here he found new friends and can stop thinking about his hard life for some time when communicating with them.
"Our Sergiyko loves to play the piano, sing, play table-top games, cook food, do some nice things with beads. And he has a great dream – to learn driving a car," retells with sincere love Ivanna Bilynska, head of social center for disabled kids and youth in Boryslav.
At the moment "Open Heart" leisure center takes care of 14 disabled persons: from Monday till Friday 12 of them learn social and household skills, fulfill their creative potential through labor activities and receive psychological support  in Caritas center, and other two beneficiaries who can't come to the social center due to health condition are visited by our workers in their homes.
Opportunity to communicate that disabled kids and youth receive in "Open Heart" center is the main need of beneficiaries, their parents and caregivers. Only three persons out of all beneficiaries have two parents, and others live with mothers or caregivers.
There is an individual approach to each person that is aimed at the development of specific skills, organization of interesting leisure, provision of informational, psychological and spiritual support to children and their environment. All these things give beneficiaries chance to better integr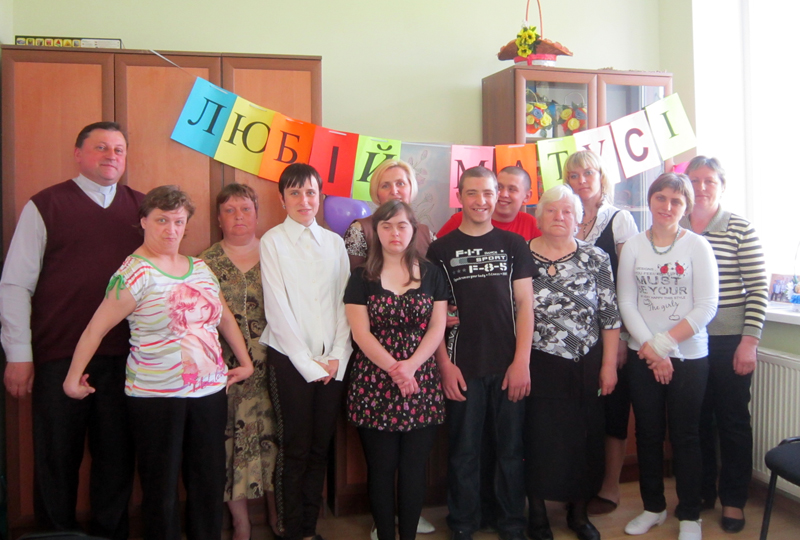 ate in the society, and also to adjust society to different peculiarities of its members, make it more tolerable and varied.
Starting 2015 youth with special needs together with workers of Caritas Boryslav social center went for excursions in Sheptytskiy museum in Lviv and local chocolate workshop, to Carpathians, on a picnic to the lake; took a ride on tubes; conducted an Easter initiative "My pysanka is the best". And recently a summer recreation camp was conducted in Carpathian Ruthenia where, – apart from camp program with sporting, educational and creative activities, various competitions and games, joint prayers, – young disabled beneficiaries got a possibility to go on excursions to "Palanok Castle" in Mukachevo, narcissus valley, deer and ostrich farms, recreational complex with thermal waters in Kosyno. All these things provide an incredible opportunity for Caritas beneficiaries to feel themselves fully functional, independent, responsible and needed, to cope with social and household isolation they were used to.
Ivanna Bilynska, head of "Open Heart" center, notes: "In fact, the number of people we can help is quite little. But it is only the beginning, a kind of model for us to learn and to teach local community how to coexist with disabled people."