06.08.2014, Ivano-Frankivsk region
Each year children, clients of Caritas Kolomyia, spent their summer holidays in Christian camp by St. Andrews Missionary Society that is located in picturesque Dora village near Yaremche (Ivano-Frankivska oblast). This summer there were two sessions, in general nearly 150 teenagers recreated and revitalized in this camp.
16-year old Arsen Knyshchuk was in the camp "Summer holidays with God" for the first time. A boy admitted that the result surpassed all his expectations: "I couldn't imagine that it would be so cool! I found great number of new friends. We spent time with fun, played football – I enjoyed everything!"
"Summer holidays with God" isn't a usual camp, its sense can be find in its name. "In the morning and in the evening we visited liturgies, communicated on spiritual topics, organized special classes. Even rooms where kids were dwelling had their Christian denominations, namely – 'Jordan', 'Bethlehem' etc. We also tried to connect games with Christian subjects.
Morning exercise, joint eating and hygienic procedures were obligatory activities in daily time-table of campers. And free time was dedicated to lessons with tutors, various workshops, interesting contests and mountain hiking," retells Nataliya Grygorchuk, tutor with long-lasting work experience, manager of children's projects in Caritas of Kolomyia-Chernivtsi Eparchy.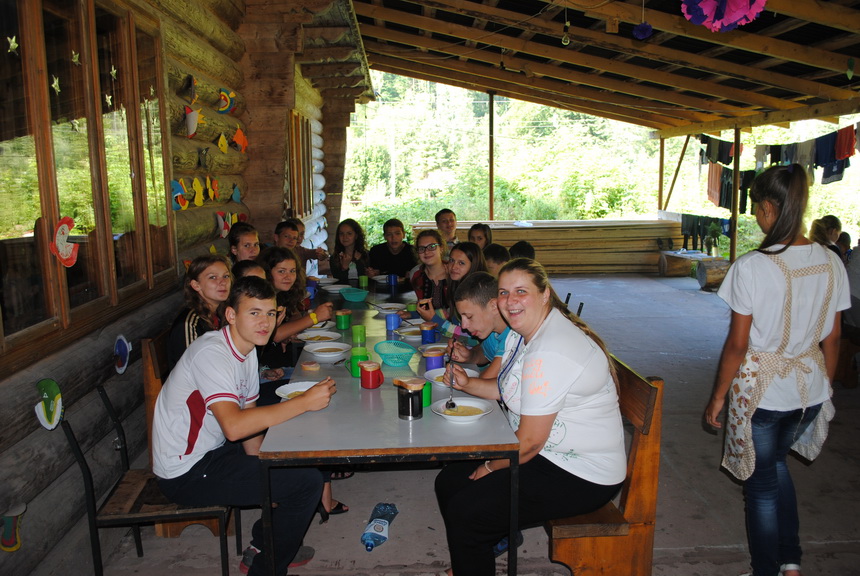 For many years local Caritas has been taking care of crisis children, youth and families: there are social services, psychological and legal assistance and material help being rendered. At the moment Caritas Kolomyia implements project of social and psychological help to children and youth with difficulties in studying and socialization – in general there are over 100 clients. Moreover, if it's possible Caritas assists other families and young people. There are also: a "Home care" project for seniors, courses on care and rendering assistance to ill persons for their relatives and caregivers, charitable refectory for low-income individuals, club for elderly people, social laundry, point for receiving and delivery of humanitarian aid, and a range of charitable initiatives.
"Strange as it may appear, children really enjoyed Christian stream of camp. Tutors are happy that they managed to bring boys and girls closer to the important life subjects in an unobtrusive and even game manner. When a camp session came to an end I personally asked kids what things they acknowledged from the time spent in camp and I was pleased to hear that one boy said: "I reconsidered some of my character features and attitude to things. Now I want to visit church more often and refine myself." Even when only one child got something for herself or himself it is a success for us, and there were dozens of such children in this camp!" Natalia is convinced.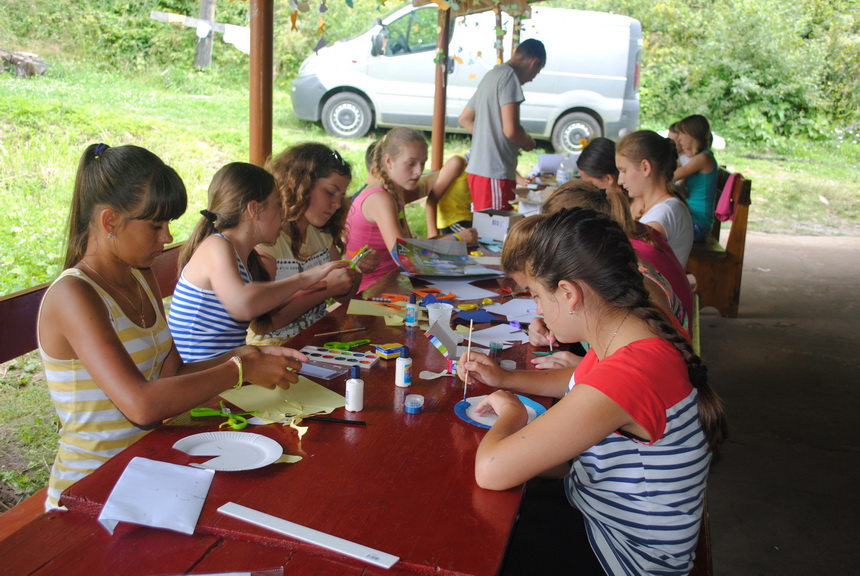 Children and parents are satisfied with such recreation. It is the fourth time daughter of Kolomyia citizen Igor Nykyruy Alina went to the camp: "My daughter likes this camp and for me it is the most important. Moreover, we find it really enjoyable that there is such a sensible combination of secular and religious lifestyles. In the camp children are doing things that are interesting for them, spend their time with benefit and become more responsible, independent and conscious in many household and other things."
"Dora is super, Dora is cool! We will come back here again!" – with such motto children thanked to camp organizers for incredible rest. When it was time to go home, boys and girls didn't hide their tears. They will never forget these seven days, because they spent time in complete harmony with magnificent nature, sincere friends and interesting tutors.