07.12.11
I would simply like to extend a great big 'thank you' to all these people who have such large hearts," says Ivan Zhovnir, a resident of the village Holyn', about Caritas Ivano-Frankivs'k's anti-crisis project. Mr. Zhovnir is one of 0 residents of the Transcarpathian region that received groceries and medicines from Caritas through a direct assistance program. The project ran from 20 May through 20 November and was supported by the International Renaissance Foundation.
Employees from Caritas Ivano-Frankivs'k UGCC completed the difficult job through a project called Broadening the Scope of Social Services for Isolated and Poor Elderly Individuals by Giving them Direct Social Assistance in the form of Groceries and Medicines. For six months project workers visited the poorest people in Transcarpathia; largely they live in the area's most secluded villages, and therefore need the most help and attention.
Assistance was given out to isolated and poor individuals between the ages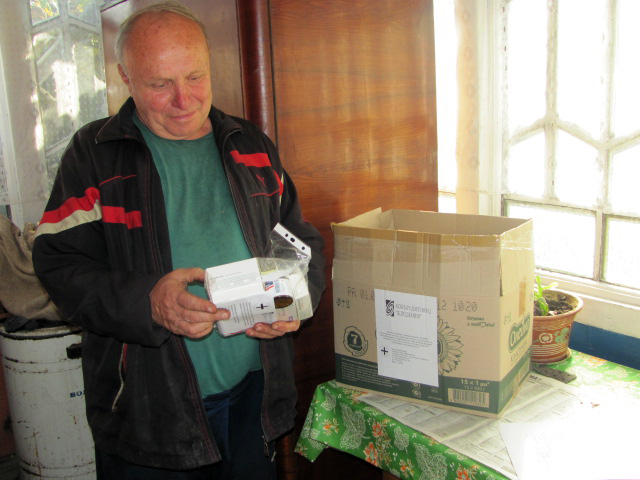 of 55 and 93, who don't get assistance or support from their families. Today they thanked Caritas for the support which helped them improve their health and their quality of life.
"Dear Caritas staff! We sincerely thank you for the tremendous help you have given us. We feel lucky that there are such good people left in the world. The medicines and groceries that you brought us made a great impact. You warmed our hearts, cured our souls, and wrapped us in warmth and attention. Jesus Christ taught us to love our neighbours—everyone knows they should do this, but unfortunately not everyone rushes to help those who find themselves in trouble.
Thank God there are still some people who care about the fate of others. You are among them. I would just like to thank you again for your big and generous hearts!" wrote Mr. Zhovnir and Ivan Olenyuk from the villages of Holyn' and Seredniy Uhryniv in the Kalus'kyy district of the Ivano-Frankivs'k region.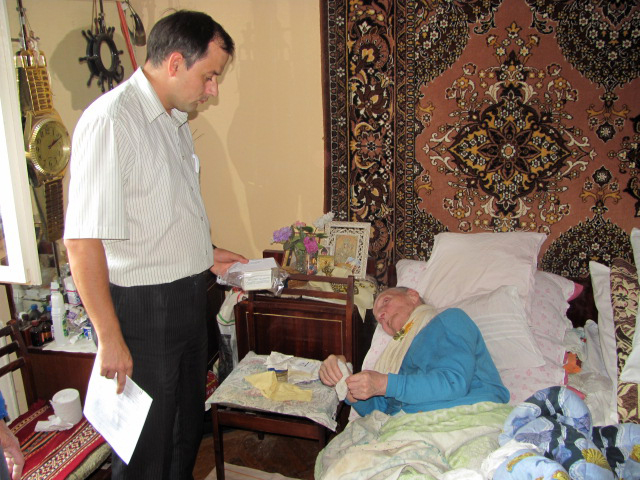 Hanna Malanyuk, a resident of Ivano-Frankivs'k also thanked Caritas: "I would like to sincerely thank you for your honest work, for your warm hearts and souls that warned our lonely fates. I am a very ill person who spends a lot of money on medicines. This help for me was tremendous because it enabled me to save money for canning vegetables for the winter, as I get no other help."
At the start of the project, when the first visits were made to determine what the needs of the people were, it was noted that people, especially those living in towns, need education on how to correctly use their medicines, how to prevent flare ups of chronic conditions, on nutrition and how to appropriately schedule their daily tasks.
For this reason, when they distributed the assistance, medical staff from the Information-Consulting Centre, a division of Home Care gave individualized education to each client.
"We wanted to improve the quality of life of over 200 isolated and poor individuals who are living through their own financial crisis. It was most pleasant to watch how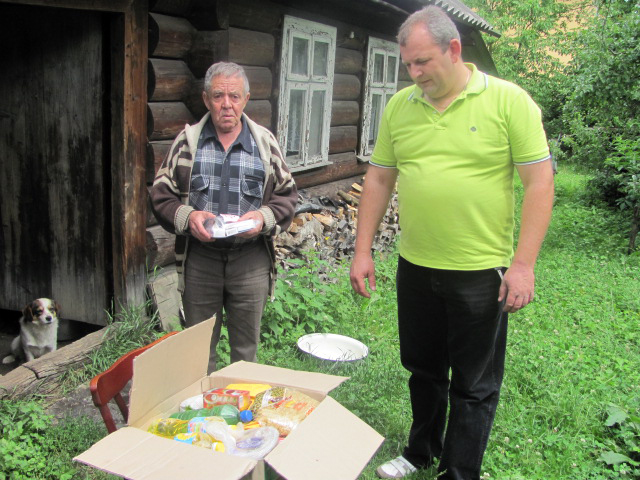 their attitudes towards life changed after they received their packages. We noticed that many of the elderly valued the attention we gave them more than anything else.
We achieve our goals: we help elderly individuals meet their physiological needs by providing them groceries, medicines and hygiene items. But we also achieved another positive result: the distribution of this assistance showed the recipients that they are not alone and society hasn't abandoned them," said Mykola Mazuryk, one of the project's social workers.