30.06.2015, Ukraine
In April 2014 Caritas Ukraine launched a pilot project "Wheelchairs for people with special needs". The Knights of Columbus from British Columbia Canada  became an initiator and donor of this charitable initiative with the support of the Canadian Wheelchair Foundation. This helped to secure nearly 850 low-income persons with chargeless wheelchairs that are made of high quality materials and complicated construction for comfortable transportation, with adjustable step for legs and agile knee board for simplified access.
Canadian foundation secured purchasing of wheelchairs and local Caritas Ukraine organizations in Drohobych, Volyn and Lviv got involved in customs clearance, delivery and provision of a warehouse facility to store this charitable assistance.
During the last year regional organizations of Caritas Ukraine provided wheelchairs to over 560 needful people with special needs in Lviv and oblast (beneficiaries of Caritas in Lviv, Drohobych, Boryslav, Truskavets, Drohobych, Stryi and Sambir, Metropolitan Andriy Sheptytskiy Hospital, 'Dzherelo' Lviv city rehabilitation center, Busk and Drohobych centers for social security, dwellers of a geriatric center for lonely people in Bidbuzh village), in Volyn region (Novovolynsk, Volodymyr-Volynskiy and Ivanychivskiy regions), in central oblasts of Ukraine (beneficiaries of Red Cross organization in Desnyanskiy district in Kyiv, Kremenchuk oblast health center for combating tuberculosis, 'Cerebral' children's organization, Boryspil rehabilitation center, persons in need and wounded as a result of a political conflict in Ukraine who live in Bila Tserkva, Fastiv; Zhytomyr, Chernihiv, Cherkassy and Vinnytsya regions).
Lyudmyla Sukhareva, responsible for project implementation, retells: "These days our country doesn't secure needy persons with wheelchairs. And thousands of people (and 15% from total population in Ukraine are the disabled) are cut off from the society. These persons don't have access to medical or educational services, they can't take care of own household conditions, visit public establishments or cultural institutions – exercise own basic rights and needs.
On behalf of Caritas Ukraine I want to express gratitude to Bishop Ken Novakivskiy (Eparch of New-Westminster of the UGCC) and Mr. Edward Shevchuk, leaders of "The Knights of Columbus" in Canada, also Mr. Christian Flensner, executive director of the Canadian Wheelchair Foundation for the assistance and support of our service to the most vulnerable population categories! Regardless the situation in the country and outside of it, all the attention is focused in the events in eastern Ukra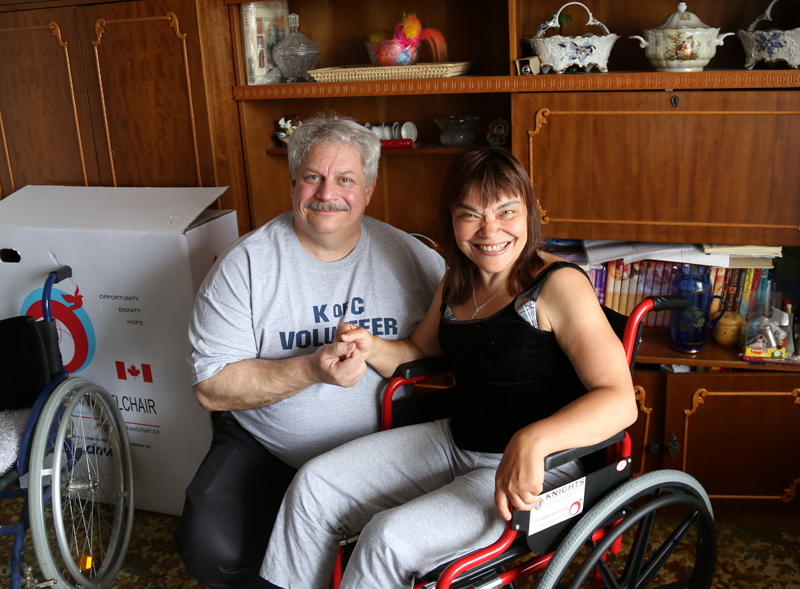 ine. There are still tens of thousands of people together with us, and colossal problems that don't disappear."
End of May the last set of 280 wheelchairs arrived to be distributed among beneficiaries of Caritas Lviv (90 items), Caritas of Stryi Eparchy of the UGCC (35 items), Caritas Brody (25 items), Caritas Ivano-Frankivsk (50 items), Caritas Ternopil (50 items), Caritas Kolomyia (30). Edward Shevchuk, Bishop Ken Novakivskiy and Christian Flesner accompanied this set of wheelchairs for low-income disabled persons. Together with Caritas employees they presented wheelchairs to beneficiaries of Lviv Geriatric Center, Lviv Military Hospital, Pidbuzhzhya Care Home, Ternopil Children City Hospital, Ternopil Oblast Oncology Health Center, Caritas Lviv ad Caritas Ternopil.
We are glad to inform about continuation and extension of such initiative this autumn – philanthropists from Canada are intended to purchase and deliver wheelchairs and rehabilitation equipment to needful people in Dnipropetrovsk, Kramatorsk, Melitopol and Kyiv.