24.04.2014, Lviv
In 2004 Caritas Lviv of the UGCC together with "Prosvita" community launched a project called "Center for Social Assistance" for needful citizens of Lviv. Center employees render help to lonely low-income city dwellers and disabled elderly individuals who face financial straits and live in unsatisfactory household conditions.
64-year old Lviv citizen Olga Kharchenko is an active and permanent member of the Center for Social Assistance. She is as fresh as paint, full of creative potential, faith in positive side of life and bright emotions every day. However, she is a common Ukrainian elderly woman, disabled person of group 2 because of work-related injury.
She was born in the family of laborers. When Olga was a year and a half she faced a terrible experience – her tendon of a right footstep was ruptured, and when she was three years old she had her right thigh burnt. Doctors said that only one person out of 1000 could remain alive after such burns, because they were too deep. Fortunately, Mrs. Olga survived, though she had a full-thickening damage of both legs and a trunk. From 1980 till 1986 our client received treatment in Kurgan city (Russia) where she went through 27 surgeries on her legs.
Her first gleams of creative work revealed at the age of 6, when a sedentary child made her first artistic piece – small pillow with Bulgarian cross stitch patterns. Since that time Olga kept on deepening and enhancing her interest in handiwork. During her study at school without any help she knitted sweaters from woolen threads that were made by her mother.
When she graduated from Ivan Franko Lviv State University where she studied on the mechanical and mathematical faculty, Olga continued to knit, embroider, sew clothes using popular stitch patters. Later, during her work as an engineer-mathematician of the 2-d category in Lviv Research and Development Radio and Technical Institute she received an employment injury – damage of her right knee-joint. Afterwards, Mrs. Olga was constantly involved in decoration of  folks  art exhibitions, participated in them and took medal places.
Since 2003 she has been working on a voluntary basis with disabled individuals in the Oblast Association for the Disabled. Every year she participates in city and oblast Spartakiada Games and contests of artworks. In 2005 on Olga's birthday she was invited for a TV-programme "Arts and crafts of the disabled cure their anguish of body and mind" on Lviv oblast television for the disabled individuals "Coast line of hope" and there was a reportage made from her place of residence about her artistic creativity.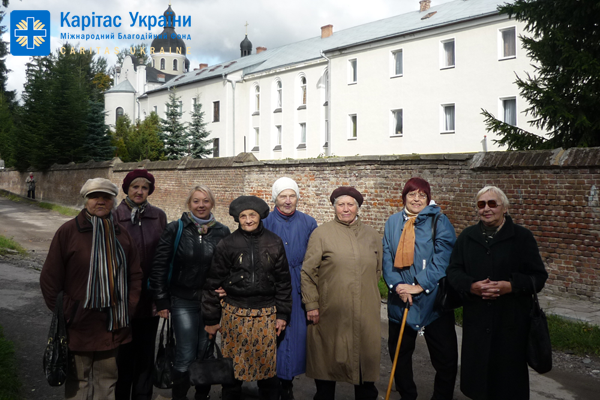 Moreover, in 2006 and 2008 years she became a participant of an international award "Philanthropist" for an outstanding achievements of the disabled individuals in the sphere of culture and art. From 13th till 17th of September, 2012,  in Eupatoria city she got a silver medal in paralympic sport 'boccia' during the 8th All-Ukrainian Spartakiada for the Disabled of All-Ukrainian organization for the disabled "Association of organizations for the disabled individuals in Ukraine". In 2012 a short-length movie called "Who dares to say that I'm week?" was shot about a creative work of Olga Kharchenko. For the majority of her embroidered works she received a diploma of a prize winner at the 6th All-Ukrainian festival of creations "On the wings of hope" for people with limited physical abilities of All-Ukrainian organization for the disabled "Association of organizations for the disabled individuals in Ukraine".
And this list can be prolonged, but its main objective to show that it's important to continue a joyful and active life regardless all living circumstances! Brave and enduring lonely disabled woman proves to herself and every member of the Center for Social Assistance of local Caritas that loneliness and disability shouldn't be regarded as a final judgement, but it has to be a chance and hope for self-improvement and personal growth, and example to follow for each of us.
Objectives of Caritas Lviv Center for Social Assistance lay in rendering of complex multifaceted help:
Social (favoring, support and services to overcome or alleviate life difficulties, support of social status and life-sustaining activity, adaptation in the society).
Primary care (pressure measurement, instillation of eye drops, wounds dressing).
Sanitary and hygiene (taking shower, laundry and hairdresser services).
Spiritual (daily joint prayer, spiritual reading).
Moral (visits to ill individuals in their homes or in hospitals, individual and group communication).
Securing of once-daily nutrition.
Organization of clients' leisure.
At different times Center for Social Assistance received support from the "Renaissance" international foundation, "Krona" foundation, Lviv City Council and private philanthropists. We are really grateful to them for the help provided, because it gives an opportunity not only to assist local clients, but also their families, and in general the whole community, – it is said in the Social Center.